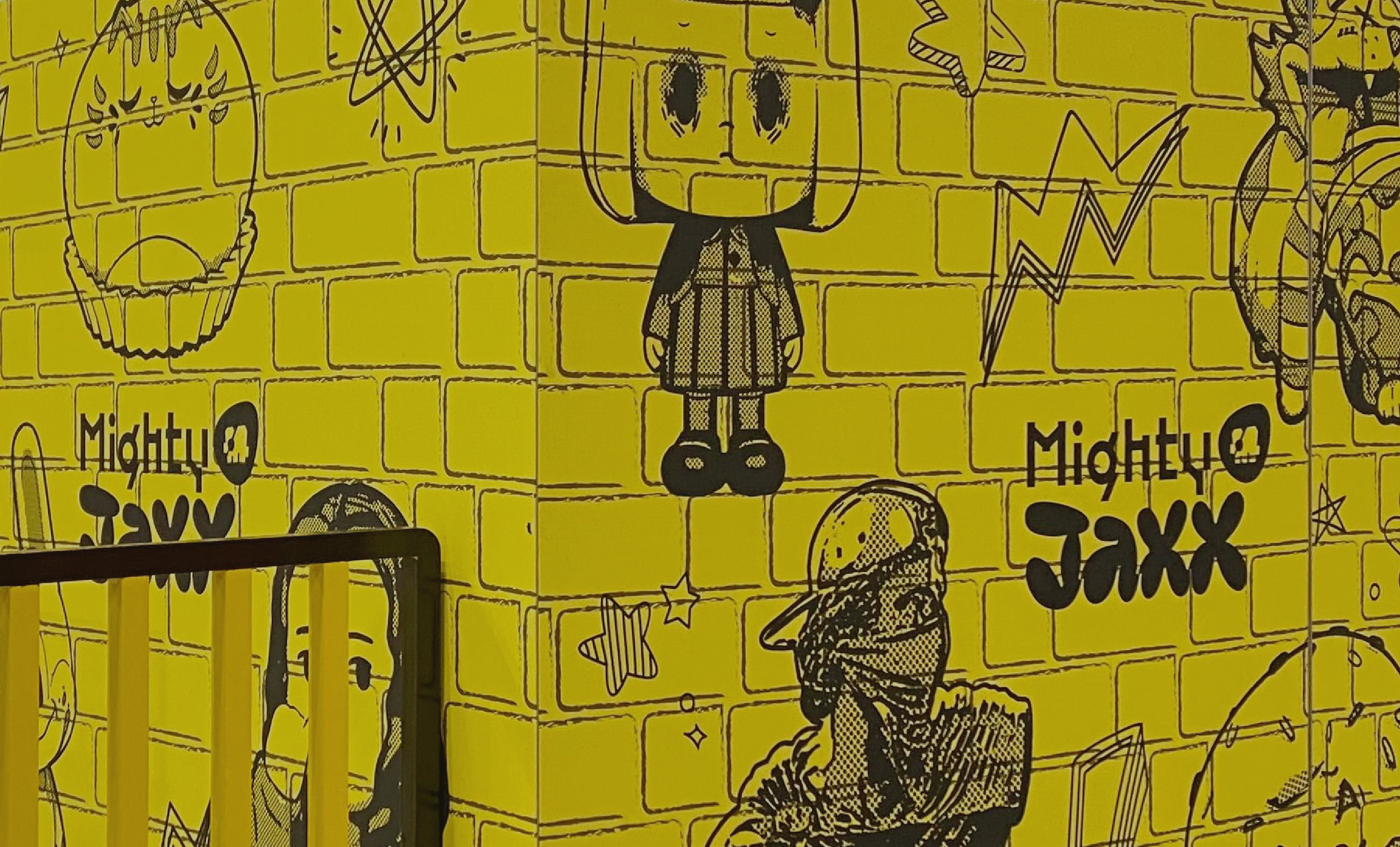 Figure out your dreams
Rebranding Singapore's titan in the collectibles market
Mighty Jaxx came to us with a big ask: create an identity that could encompass its outsized and evolving persona.
WHEN A REBEL GAINS RESPECTABILITY
Since 2012, Singapore-based Mighty Jaxx has made a name for itself by championing edgy artists and turning their works into stunning three-dimensional collectibles. Founder Jackson Aw had started the company to make toys of his own design and whimsy. In 2020, he approached &Larry with three challenges facing Mighty Jaxx:
It had outgrown its original vision of making cool collectibles.
Its branding did not make sense for its new ventures.
Its sub-brands needed to be clarified as well.
To present a coherent and attractive opportunity to potential investors, the Mighty Jaxx brand had to grow up fast without losing its creative fervour.
FINDING THE REBEL INSIDE
It is foolish to set a new direction without first understanding how you got here. &Larry began by observing the workings of different departments, speaking with key stakeholders as well as customers, who, despite varying degrees of affinity for the brand, all professed an admiration for how it was willing to collaborate with edgier artists whose works were decidedly not for children.
Our deep dive into brand lore uncovered the origins of the brand mascot, a mischievous pirate boy who embodied the founder's desire to make cool stuff on his own terms. This rebellious streak would inspire the new design of the brand identity.
A MIGHTY VISION, REIMAGINED
Our analysis of the existing internal and external brand relationships concluded with the recommendation for a drastic re-architecting. As Mighty Jaxx is synonymous with collectibles, we needed something 'bigger' that could comfortably take Mighty Jaxx align with a slew of subsidiary brands under its auspices. Through a series of workshops to explore possible names, the internal poll saw Mighty Verse emerge as the winner. This new entity would become a ''Mighty (uni)Verse' where all of its brands, businesses and partners would thrive.
The rest of the sub-brands then neatly fell into place, and their naming convention being logically sorted out, making it possible to redesign the brand identity with a holistic approach.
Rewritten with an upstart verve, the brand positioning statement served as a reminder of why artists and customers fell in love with the brand in the first place.
The new brand essence "Where Desire Takes Shape" honours the original founding principle while also pointing to the new Mighty Verse as a destination to realise a creative concept in physical, digital or phygital form.
MAKING THINGS BETTER
The brand strategy that we developed for Mighty Verse included examining the materials and processes that go into the making of each physical product. We raised the need to consider the impact on our world as cool and desirable products are created in the Mighty Verse. This was incorporated into the overall strategy checklist – a custom diagram designed to remind decision makers of whether an action or initiative properly synergised with the new vision and direction of the company and brand.
A FIST BUMP BETWEEN REBELS
What began as a redesign of the Mighty Jaxx brand identity took on greater significance as we planned out the shared elements amongst all the sub-brands, and the specific elements tailored to the functions and characteristics of individual subsidiaries.
Across the board, we created a skull emblem that is part tribute to the original pirate boy mascot and part stylised clenched fist signing the letter 'M'. The symbol for each sub-brandmark also features a different eye-patch to go along with its custom wordmark.
Covering everything from digital and blockchain development to sports collectibles, IP collaborations and more, the resulting brand identity system gave the Mighty Verse family of brands a modern, authentic and unmistakable sense of belonging.
EVOLVING TO A HIGHER FORM
Even before the new brand identity was ready, Jackson had found that the clarified vision, mission and positioning was invaluable for winning over potential investors to his renewed vision for taking the company forward.
Throughout the second half of 2022, the new branding for Mighty Verse and subsidiary businesses was gradually revealed, with product packaging of Mighty Jaxx transitioning over as well. By the time of Singapore Comic Convention in December, the new branding was in full swing.
Front and centre was Mighty Jaxx, with its playfully rounded letterforms and symbol lending themselves to myriad incarnations, from the larger-than-life logos to three-dimensional blocks and extruded shapes becoming display stands. Co-branding with popular established IP brands and characters filled the walls.
The all-encompassing nature of the Mighty Verse was shown on epic backdrops and the company's latest foray into cutting edge technology, including life-sized manifestations of popular NFT creations. Meanwhile the sporting world of Mighty Allstars made its debut with a roster of famous F1 drivers rendered in a highly collectible form. The Mighty Verse has arrived and is all set for its continuing journey as a global brand.
We see Mighty Jaxx as an ever-evolving organism, which makes branding a real challenge. After years of trying to find that perfect expression of our brand and identity to accommodate our growth, &Larry managed to dissect the brand and put everything together coherently and authentically in a matter of months. They not only developed a compelling brand story and identity for us, it was built on a new, future-proofed brand architecture. Now we love our brand more than ever, together with our stakeholders and, most importantly, our customers. Thanks to &Larry for helping us visualise the company's soul and be part of our journey to build a company that lasts!
The Mighty Verse Team