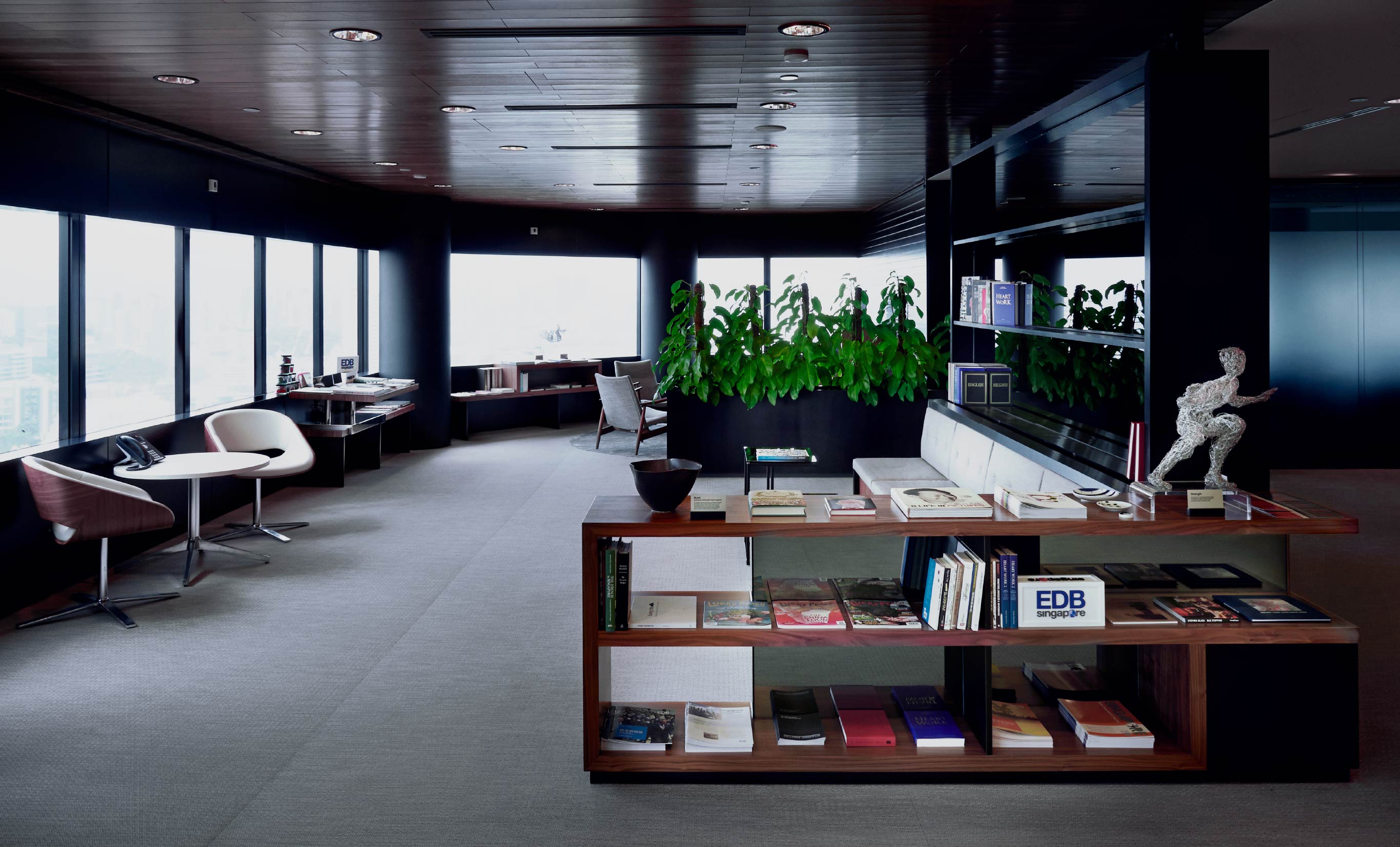 Future Ready Singapore
Encapsulating the Singapore Story through art and space
Responsible for the strategic development of Singapore as a global hub for business and innovation, EDB wanted to engage stakeholders from the moment they stepped into their head office.
CONVERSATION STARTERS WRIT LARGE
When an organisation's mission is about future-readiness, using technology to tell that story would carry a high risk of obsolescence. This was the feedback we shared when &Larry was brought in by Hassell Singapore to consult on EDB's client-facing floor at Raffles City. Initially tasked to utilise cutting edge technologies wherever possible, we convinced EDB that it was better to focus on the stories we could tell using this space, and then figuring out if technology could play a part in it.
We did not want a fancier version of a one-way corporate statement. We wanted concepts that would resonate with audiences and get them excited about having a dialogue with an organisation that could think and communicate in this way.
EDB'S INTERNATIONAL HERITAGE
With only our human capital and a strategic location in SouthEast Asia, Singapore has always valued foreign investment to develop its economy. Now with offices all over the world, EDB could harness its network to greater effect. This was the idea behind our installation 'Casting a Global Light'.
THE GLOBAL-ASIA CONFLUENCE
Singapore occupies not only a significant geographic position, it has also claimed an important place in the minds of international industrialists and entrepreneurs. It has that rare conjunction of Asian and Western influences, affording investors the best of both worlds when it comes to developing, applying and marketing technology-based products and solutions to the fast growth regions in Asia and beyond. This potential cliche was the basis for our installation 'Science of Life'.
THE SINGAPORE STORY
Instead of allowing hardware to dictate the narrative, we established three overarching stories to be embedded into the physical space: the Global-Asia confluence, The Singapore Story and EDB's Heritage. In order to avoid the trap of one-way messaging, we then designed artworks and installations with a timeless quality that captured the hearts and minds of clients and staff members.
CASTING A GLOBAL LIGHT
With offices in major cities around the world, this installation positions EDB metaphorically as a lighthouse, and depicts its worldwide offices working in unison to shine a light on the global stage. Inspired by tin can 'telephones' that local children played with in the past, this installation features 24 'cans' hung over a metal counter, each representing a city where EDB has an office. The countertop is finished in matte brushed metal, contrasting against a punched array map of the world etched in mirrored steel. When the lights are switched on, the illuminated office locations become natural focal points.
SCIENCE OF LIFE
The familiar trope of East-meets-West is given an intriguing presentation in this feature wall. Drawing on our collective intuition to draw parallels between the opposite cultures, Science of Life is an interactive hybrid of the Western periodic table and traditional Chinese medicinal cabinets that neatly summarises Singapore's unique geographic perspective on science, technology, research and innovation.
Within the drawers are a series of flash cards organised thematically by a key periodic element associated with a project. The cards highlight advancements in science and technology that have profoundly improved lives, and communicate a carefully considered association to a successful partnership or case study belonging to an EDB partner company.
LIVING WELL
Inspired by the communal wells in kampung villages of yesteryear, this installation symbolises the success of the Singapore Water Story, celebrating our progress from relying on imports to self-reliance through sustainable production of shared resources.
Created entirely from resin, the low table and its inverted bucket lamp draw guests to congregate around and help themselves to the bottles of NEWater contained within. This installation amplifies Singapore's future ready message as a global leader that actively partners companies to innovate and create new businesses for tomorrow.
A WARM WELCOME FROM EDB
Resembling a living room rather than a dormant museum, the use of dark wood, soft carpets, bookshelves and greenery create a warm, soothing and homely atmosphere. Eschewing the passivity of exhibition panels, The Singapore Story is articulated through a curated selection of local literature for visitor browsing.
Custom-made EDB 'bricks' allow for hands-on photo opportunities while exemplary made-in-Singapore products and ambient music by local musicians heighten the overall sensory experience.
DIGITAL WALL
The flexibility of software and data visualisation were used to great effect in the design of the digital wall at the main atrium. Employing live streams of passenger arrival and departure data from Changi Airport Group, the display conveyed the connectedness and immediacy of Singapore with the rest of the world.
PRESS ROOM & PARTNERSHIP HALL OF FAME
The intentionally darkened corridor outside the press room is designed to allow the display of gifts and artefacts from corporate partners to take the spotlight. Designed for modularity, the shelf can be configured for odd-sized items and tell a richer story in relation to Singapore's broader industry landscape. A relief wall within the press room highlights significant milestones to celebrate pivotal points in EDB's 50 years of history.
FUTURE READY MEETING ROOMS
In line with EDB's mission, the meeting rooms adopt a "Future Ready" naming system beginning from the year 2012. With each passing year, the significant achievements of that year are rendered as new milestones above the numerals.
In this partnership, the &Larry team demonstrated a deep understanding of the needs of EDB and how it connected with the broader Singapore story that resonates with clients and visitors. This can only come about having thoroughly researched on the organisation and Singapore history, and the future of both EDB and Singapore. The re-design of the public spaces is an outcome that combines that knowledge, their ability to inject their design and creative expertise in a way that appears effortless yet thoughtful and managing stakeholders (both internal and external) very carefully.
Dane Lim
Director, Marketing & Communications, EDB Singapore