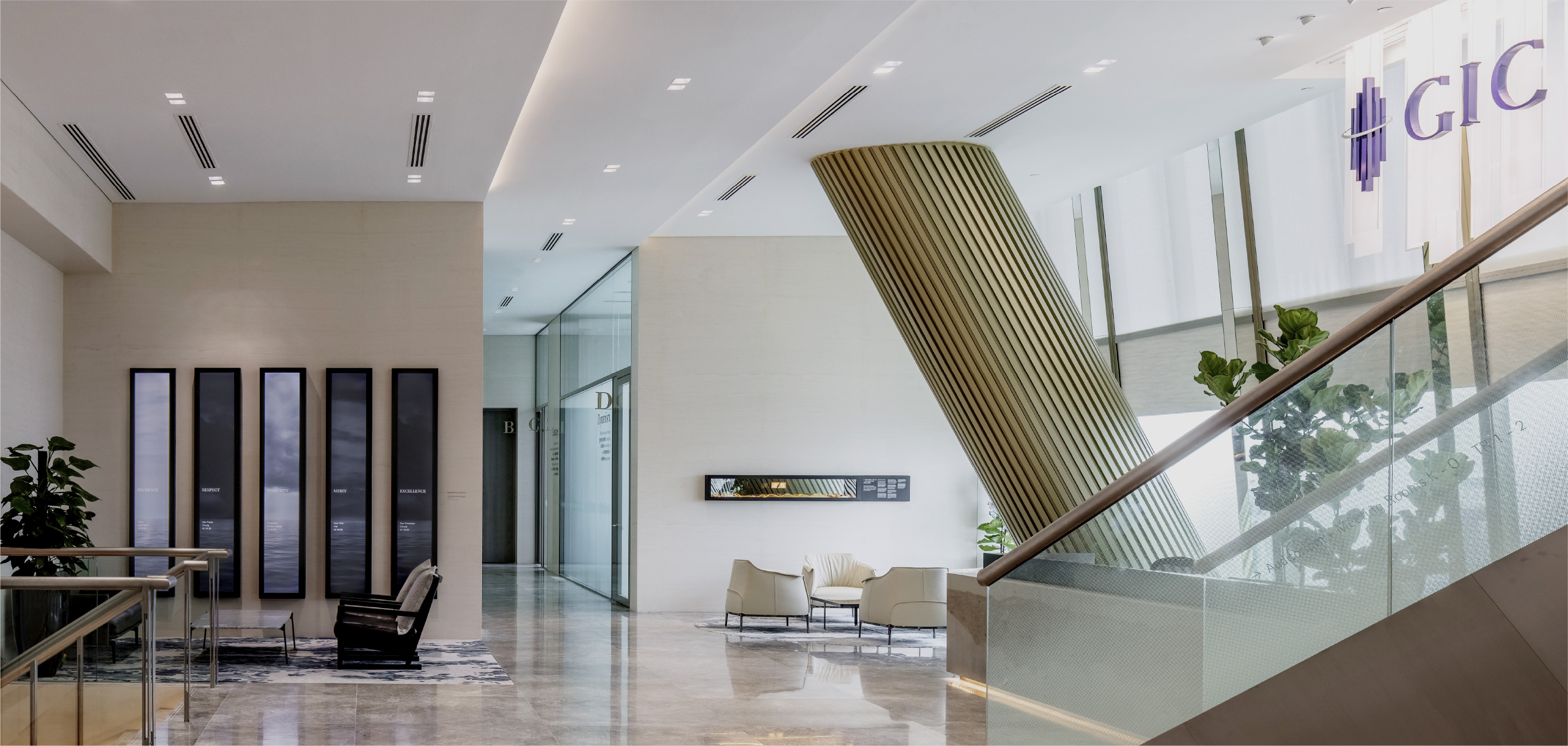 Unchanging valuesin a turbulent world
Experiencing the vision of a forward-thinking organisation in real time
Entrusted with the investment of Singapore's financial assets, GIC's storied past and steadfast values were due for a modern retelling.
A HERITAGE OF BOLD AND FORWARD THINKING
&Larry was privileged to act as brand consultant for GIC, Singapore's sovereign wealth fund. Working closely with SCA Designs, we spoke to key stakeholders and delved into the organisation's history, core values and directives to strategise the overall concept, spatial and design direction, so as to create an inspiring and holistic experience for GIC staff and visitors alike.
Having determined the historical highlights and organisational characteristics that we wanted to build upon, we moved to tackle the design challenges.
The first was conceptualising each installation to engage audiences at an intuitive level. The second was to present them with a timeless aesthetic that was perfectly aligned with GIC's enduring vision and global stature.
Both challenges were met in three resulting artworks. 'Primed For Change', 'Further Together' and 'A Torn Dollar Bill and Gold For Singapore' not only depicted aspects of the GIC story in a compelling manner, they also captured the imagination of staff and visitors alike. Together with room naming, wayfinding and the materiality of the space, all these touch points worked as one to create a memorable impression of GIC as a steadfast, sophisticated and forward thinking organisation.
PRIMED FOR CHANGE
The core values of GIC — Prudence, Respect, Integrity, Merit and Excellence — are interpreted as five windows into the future, and deliberately sized and proportioned to recall the design of GIC's logo. The installation was designed not just to display those values but to link them using a shared horizon to emphasise the constancy with which these principles guide the organisation. Using real time data in cities where GIC's offices are located, the animated weather conditions depict continual flux on the horizon and to reflect on the need for vigilance.
Programming, software development and video editing by Make Studios.
FURTHER TOGETHER
GIC invests globally and its strong international network gives it access to investment opportunities. Using lagged data from GIC's global email traffic, lines of communication are traced along the contours of the polyhedrons using projection-mapping techniques to highlight these linkages that illustrate GIC's reach and interconnectedness around the world.
Programming and software development by Make Studios.
A TORN DOLLAR BILL AND GOLD FOR SINGAPORE
GIC was the brainchild of former Deputy Prime Minister Dr Goh Keng Swee and this artwork showcases one of his boldest and most decisive actions to safeguard Singapore's reserves in 1968.
Amidst the upheaval in global currency markets, Dr Goh formulated a plan to circumvent an embargo to buy gold bullion. The clandestine nature of the plan belies the typical staid image of Singapore, and is manifested by artefact on display: the actual torn US dollar bill that served as authentication for the deal is held aloft golden waves, testament to a legacy of foresight, dedication, ingenuity and enterprise.